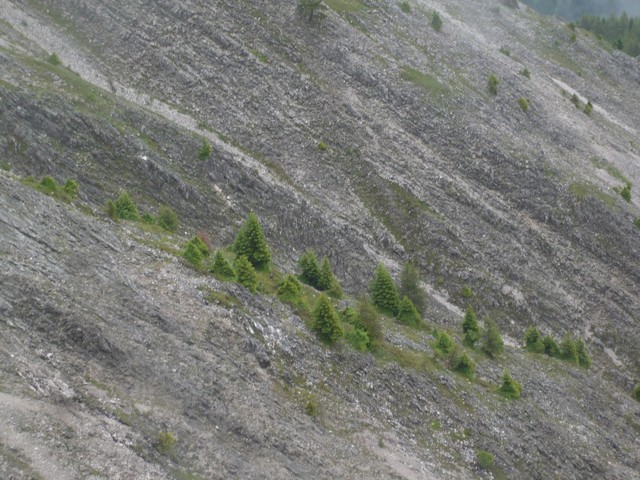 Drivers of regeneration on wildfire slopes in the Limestone Alps
Historical forest fires in the 19th and 20th century in the Limestone Alps of Bavaria and North Tyrol had devastating effects on the vegetation. At many sites, the original shrub vegetation in the sub-alpine belt was destroyed completely and replaced by sparse alpine grass vegetation or even by naked bedrock or debris. Surprisingly, many of the sites show no regeneration at all even approx. 50-100 years after the respective fires ("arrested succession") while others show evidence of ongoing recovery. The reasons for this divergent development are widely unknown.
The overarching research question is, which parameters govern the regeneration or non-regeneration of the slopes? This question is tackled in a cooperation between geomorphology, disturbance ecology and soil science. We are planning to test the following hypotheses: (1) Adverse micro-climate (high radiation and low humidity on south-facing slopes) slow down or inhibit regeneration; (2) topographical parameters ("safe sites" of different scale) govern the patterns of vegetation succession; (3) soil organic matter loss during the fires left thin soils (or none at all) which cannot store sufficient moisture; (4) nutrient storage is unfavourable.
Projekt participants:
Oliver Sass (UBT - Geomorphologie)

Anke Jentsch (UBT - Störungsökologie)
Johanna Pausch (UBT - Agrarökologie)